Fruit trees provide us with so many wonderful delights of the earth. Along with the usual shade and aesthetic value that any tree can provide, fruit trees also bear fruit! Now, the peach tree is one of the most lovely trees that you can add to your home, so we're going to give you a little insight on how you can plant one and what to do next!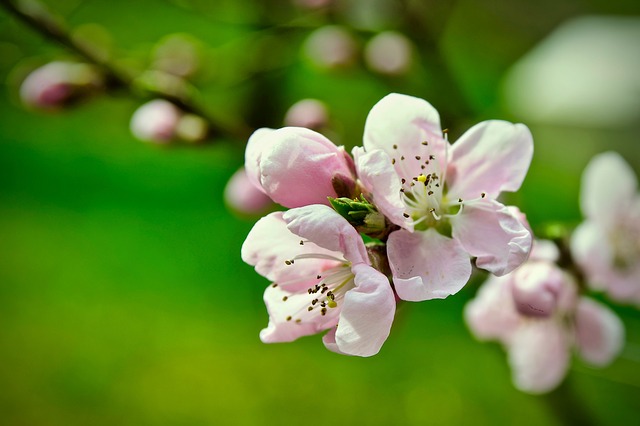 It's Almost Time to Plant Them!
Peach trees are traditionally planted in the Spring after the frost has gone for good. As with most young trees, frost can be quite dangerous for the saplings. But, as long as the frost is no where in sight, the soil is fertile, and you have a tree to plant, you'll be in good shape. Choose a site for your tree that has full sun so that they can grow properly. You will also want to make sure that your tree is fertilized about a week after planting with nitrogen-rich fertilizer.
Don't Forget To Prune!
Peach trees need regular pruning once they get going to ensure that their growth remains steady and strong. Neglecting to prune your peach trees will lead to all sorts of trouble such as weakening, disease, and less fruit year to year. You should also make sure to harvest the fruits regularly to ensure that your trees don't get overcrowded. There is definitely the possibility of too much of a good thing with peach trees!
Protect Your Trees Throughout the Year!
Animals love peaches just like we do, so it's vital that you protect your trees throughout the year. Deer, birds, squirrels, and other pests can quickly turn your lovely trees into a free buffet, but don't worry. You don't need to use harmful methods to deter them. Fencing can often keep the deer out. Birds and squirrels can be deterred by making sure that all fallen peaches are picked up and that the area is clean from debris and other potential snacks. Installing a bird feeder on the other side of your yard can also help.
Nelson Tree is Here To Help With Your Peach Trees
If you're looking to add a few peach trees to your home, then call on Nelson Tree to help you. We will ensure that they're looking their best with expert pruning and disease diagnostics. If you're looking for tree removal, then you're in luck. We can handle that too! Contact us today for more information.